I love Spotify!
For an independent singer-songwriter like me, it is fantastic to be able to publish my music on Spotify. I reach people in Australia, Austria, Belgium, Denmark, Faroe Islands, Finland, France, Germany, the Netherlands, New Zealand, Norway, Spain, Sweden, Switzerland, the United Kingdom, and the United States.
That is, until today. Something has happened with my links to Spotify. I know I can copy the link to an album, a song or an artist from Spotify, as http:// or Spotify direct, but since I have albums in different artist names, as Browncow, with Tibet in reverse and in my own name, Per Bronco Karlsson, I have been using http://open.spotify.com/search/per_bronco_karlsson to reach all albums in one link.
But that doesn´t work anymore.
A solution I found was to link to a playlist I made with all my albums. Very nice solution too, I think, like inviting to a personal listening. But not as easy as one could expect. Again, Spotify offers links to copy, http:// and direct links, to a playlist – but finding out that the http:// link works on windows 7 with Internet Explorer 9 but not on my XP machine with IE 8 is frustrating. The direct link however works in both IE versions, but not in Google Chrome, not on w7 or on XP.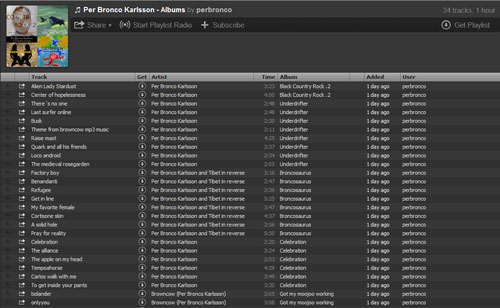 ---
Update next day: Resolved. Linking to a redirect page works with all browsers. Try it yourself, here´s the link to my album playlist on Spotify, via a redirect page:
My playlist
---
Per Bronco Karlsson